Last Updated: 02/04/18 12:02am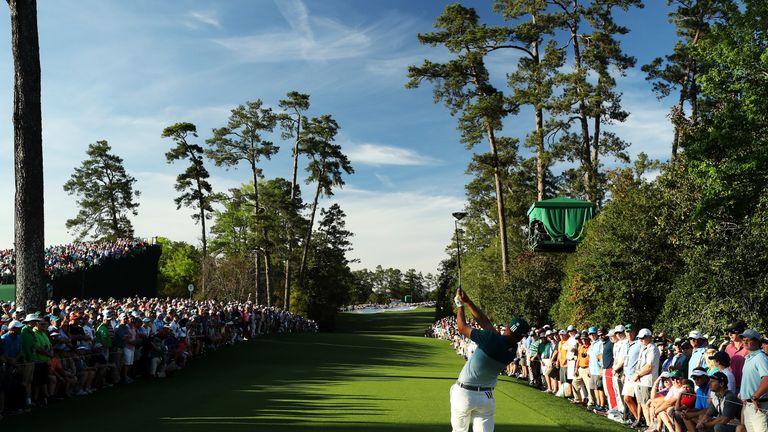 Sergio Garcia will bid to retain the Masters title at golf's 'Garden of Eden' this week
Ewen Murray looks forward to the Masters in golf's "Garden of Eden" and attempts to highlight a winner from "the most impressive field in depth the Masters has had since its inception"……..
There is not a golfer within our shores that doesn't look forward to the first week in April. At their home course, the grass awakens from its winter slumbers, the daffodils and bluebells emerge from the woodlands, and the greenkeepers fire up the mowers after months of hibernation in their sheds.
But before the Spring Medal begins, there is a tournament that captures the imagination of all. A sporting spectacular played out in golf's Garden of Eden. A tournament where there is prize money, world-ranking points and a handsome unique trophy. The best players in the world are invited to compete, yet, the only thing that matters to them is a garment that confirms golfing greatness.
There is nothing like the Masters in springtime at Augusta National G.C. in Georgia.
Maybe it's because the winters are long, perhaps the fact the last major was eight months ago, but this event can never come soon enough and this year's Masters is full of rich promise.
So many of the top players are in good form. Two-time champion Bubba Watson has had two victories in the last two months. At 47 years of age, three-time champion Phil Mickelson has found a new lease of life winning another World Golf Championship in Mexico.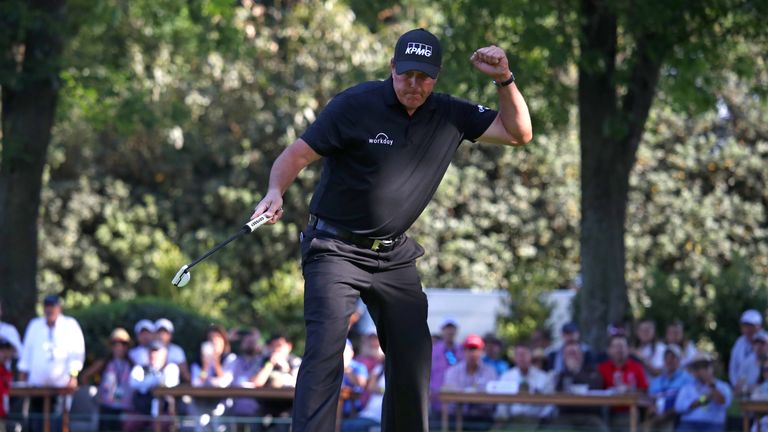 Phil Mickelson has 'found a new lease of life' this year
Dustin Johnson, currently the top-ranked player, has won. So has Jason Day, Rory McIlroy, Jon Rahm, Tommy Fleetwood, Paul Casey, among others. Jordan Spieth has led the Masters recently after seven consecutive rounds, a tournament record. Justin Thomas, the last player to win a major, has seven wins in his last 33 tournaments.
Sergio Garcia, the defending champion, took over 70 majors to win his first and is a different competitor since that dramatic duel with Justin Rose 52 weeks ago. And then there is the return to the sport of the four-time Masters champion and greatest golfer of the modern era, Tiger Woods. Never has it been so difficult to predict a winner at this beautiful theatre. So many have star billing.
One can look at all of these players and argue a case for them being presented with a green jacket in the Butler Cabin on Sunday, April 8, but as always, when the sun sets on this year's Masters, there will be joy for only one.
Your guess is as good as mine as to who that will be.
My prediction is that it will be one of the aforementioned players. My heart tells me Rory and what a story that would be after his 2011 meltdown. Success would see him join the five golfers that boast the coveted Grand Slam, Gene, Gary, Jack, Ben and Tiger.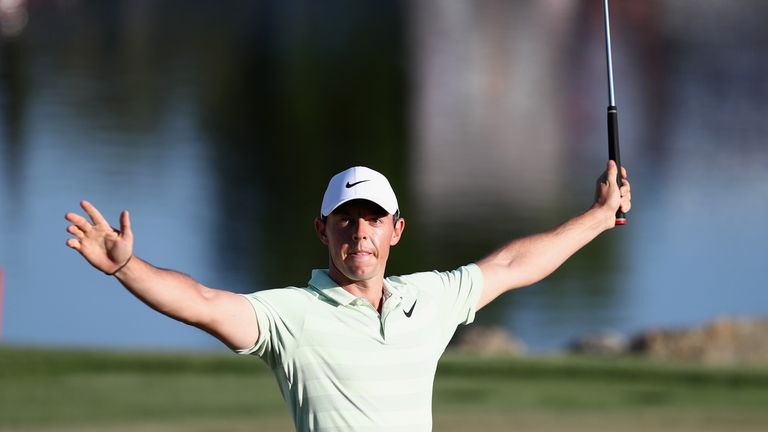 Rory McIlroy won the Arnold Palmer Invitational last month
Augusta sets up well for his game. On form, his driving is exemplary so the par-fives are key. He can reach them all and with his natural right-to-left ball flight, so many holes suit his eye. There is of course the added pressure of completing golf's Holy Grail. This year, Mickelson and Spieth will have their opportunity to achieve that at the US Open and PGA Championship respectively.
While Rory has his draw shape, Bubba matches that flight with his fade. In the doldrums after a year of ill health and poor play, Watson has been magnificent this season with wins at famed Riviera and the Austin Country Club. The images of his two wins will only add to his confidence.
Then there is the defending champion, Garcia. What a 12 months it's been for the Spaniard. Married after his epic win last April and a dad for the first time last month when Azalea was brought into the world. There is now a calmness about Sergio, he rarely plays ordinary golf and should he have a good putting week, he will be difficult to get past.
At a press conference last month, I suggested that a 90-per-cent+-fit Tiger Woods will contend this year. I have to admit, I received some quizzical looks, some laughs and some, 'you have to be joking' glares.
Had you asked me last November, if Tiger would win an event again, I honestly would have said, no chance, let alone adding to his 14 majors. His comeback this year has astounded me. His swing speed and ball speed have been phenomenal. More than that, his short game, in particular, his putting, has been outstanding. For that and his unrivalled knowledge of this hallowed ground, I believe Woods is a strong contender. I also believe he thinks he can win jacket No 5.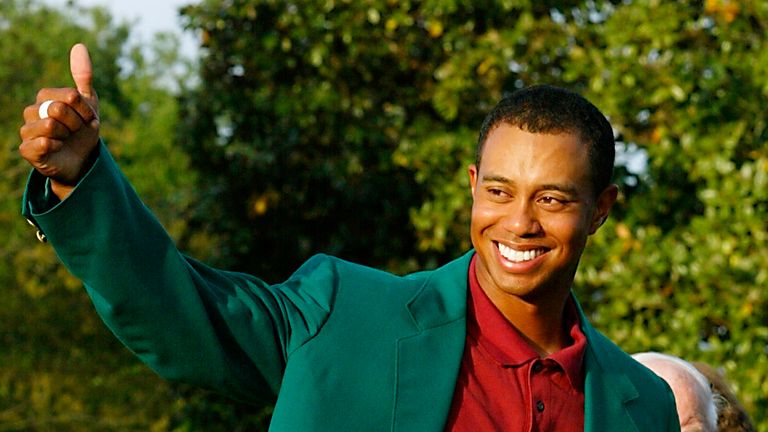 Will Tiger Woods win green jacket No 5?
With this year's cast, selecting the champion is nigh on impossible. I haven't mentioned Hideki Matsuyama who could give Japan its first Masters and the in-form Henrik Stenson and Alex Noren will fly the Swedish flag.
With so much attention on the big names and the form they're in, maybe Rickie Fowler will slip under the radar and join his best friends in that exclusive major club.
With so many 'champions elect' many of you will be looking for value in each-way odds.
Of the outsiders, I think Patrick Cantlay will be competitively priced. He's been a little quiet this past six weeks since his fine showing at Riviera, but he is a wonderful talent with a superb collegiate record behind him. Playing last year on a medical exemption, he required just 13 events to make it through to the Tour Championship at East Lake.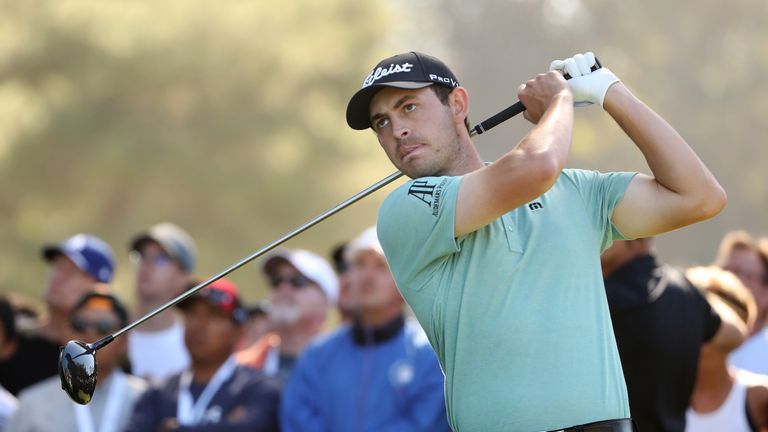 Patrick Cantlay could reward each-way supporters
I would, of course, like to see a European victory and, in Ryder Cup year, see a strong showing from our own. Given their talent, we have every reason to expect that. England's golfers are enjoying halcyon days across the globe and never have they been stronger in numbers.
You will have your own favourites and I wish you well with your selections. I believe this is the most impressive field in depth the Masters has had since its inception.
Not long now until we feast our eyes on the manicured fairways and putting surfaces of the McKenzie and Jones masterpiece. Your golfing season will then be officially open.