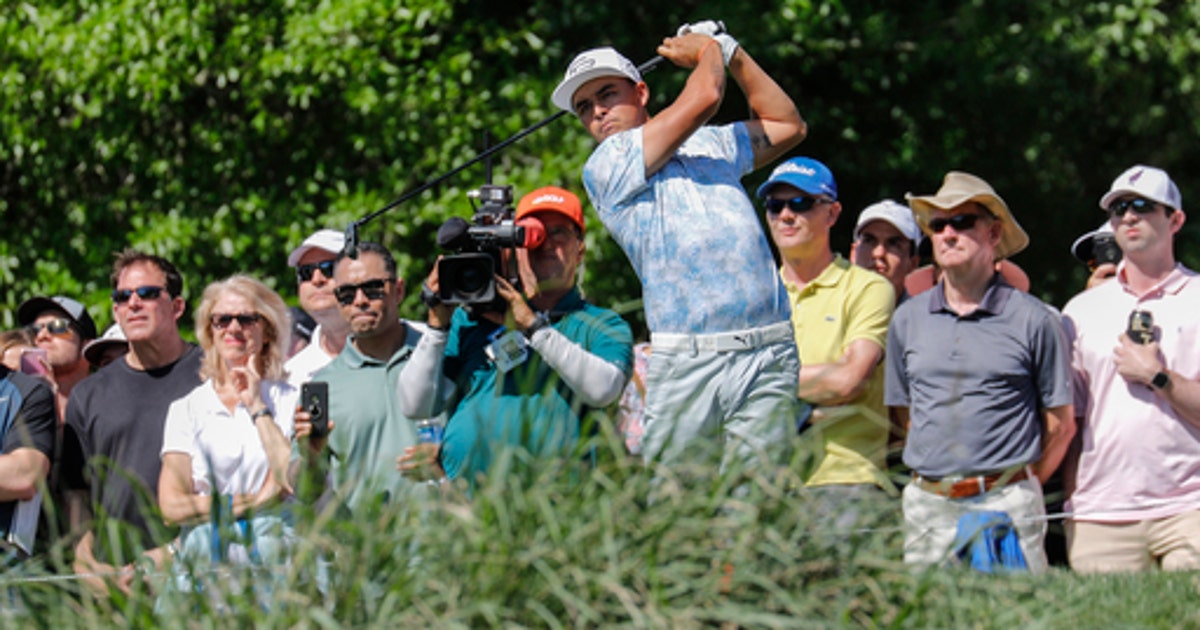 HUMBLE, Texas (AP) Beau Hossler was steady while better-known players faltered down the stretch Friday at the Houston Open, leaving him with a one-shot lead heading into the weekend.
The 23-year-old Hossler shot a 4-under 68 for a two-day total of 11-under 133, good enough for the second 36-hole lead of his rookie season. He shared the lead with Dustin Johnson at the halfway mark at Pebble Beach before falling out of contention.
Hossler opened with a bogey but didn't drop another shot the rest of the day, finishing with a wedge from 114 yards to inside 3 feet to save par on the tough par-4 18th. He said patience will be key as he seeks his first PGA Tour victory.
"The reality is I'm 11 under par. More than likely 18 under is going to win the tournament unless the conditions are tough, so there's a long way to go," Hossler said. "It's not like I can go shoot even par and win the tournament. But I'm looking forward to the challenge of the weekend."
Rickie Fowler was tied with Hossler before he hooked his drive into the water on 18, leading to bogey. He shot 68 to join Sam Ryder, Abraham Ancer and Nicholas Lindheim at 10 under.
Jordan Spieth's putter heated up before his momentum stalled with a missed 3-footer on the 16th hole. He shot 67 and was two shots back as he seeks his first win of the season on the eve of the Masters. Spieth lost in a playoff in Houston in 2015 and went on to win the first of his three major titles the following week at Augusta National.
"From where I was three days ago, my goal (is) accomplished for the week already," Spieth said. "So at this point anything else is icing on the cake. It was a round that could have been really special. But I don't have to (shoot) 8 or 9 under. I feel like my game's in form, and that's really cool. I'm having a lot of fun out there."
Phil Mickelson took the biggest step backward on 18. He was bogey-free for 17 holes and 8 under for the tournament before he found the water twice and made triple bogey.
Twenty-two players were within three shots of the lead. Paul Dunne of Ireland, who finished his first-round 64 on Friday morning, was 9 under after a 71. Henrik Stenson and Matt Kuchar were among the dozen players at 8 under.
Hossler, from Mission Viejo, California, first showed off his game to a national audience when he briefly led the 2012 U.S. Open while still in high school. He went on to star at Texas and is now based in Dallas, where he frequently practices alongside Spieth at Trinity Forest, which will host the AT&T Byron Nelson in May.
Spieth also played at Texas, although the two were never teammates.
"He's been working really hard on his game," Spieth said. "We played a practice round this week, 15 holes. He was playing really well. It's no surprise that he's (on) top. He's not afraid of being on top, either, so he's one of the guys who's a strong contender this weekend. We weren't able to play together at Texas, but when I left they had a stud taking over."
For Hossler, the Houston Open will be a tune-up for Augusta National only if he claims the $1.26 million winner's check on Sunday. Before the tournament, he had little reason to think that would be possible. He'd broken par just once in his previous 10 competitive rounds before Thursday, and his practice sessions weren't pretty.
"I actually told my caddie on the range yesterday (when I was) hitting the ball all over the place and not making solid contact, I was like, it's funny," Hossler said. "I've played some really good golf like this."