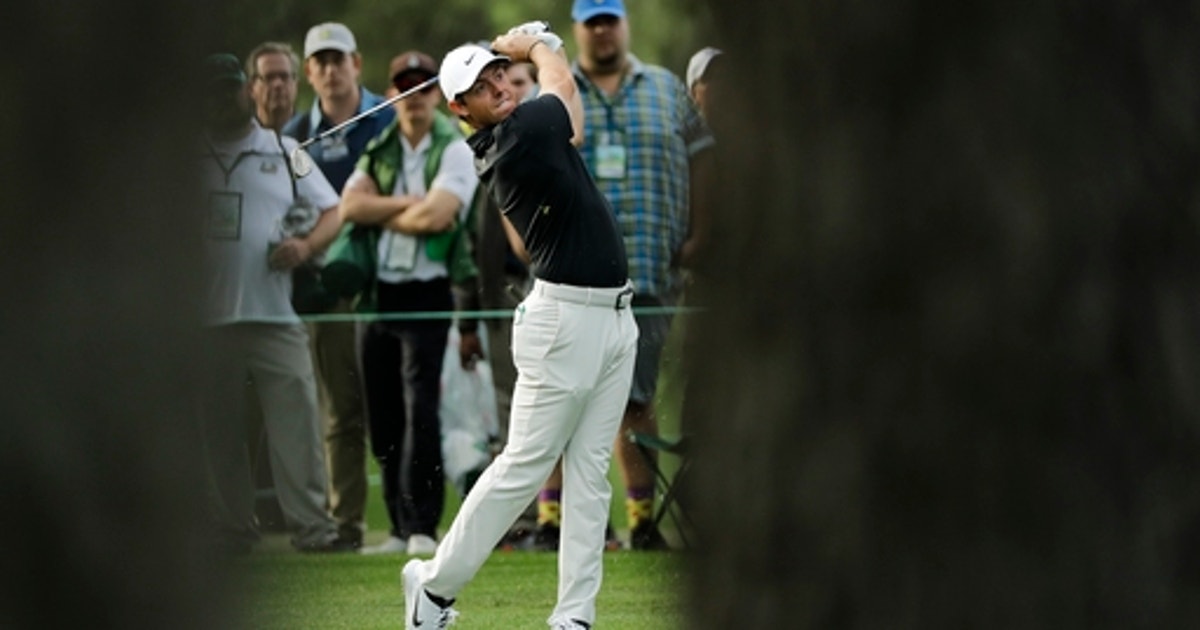 AUGUSTA, Ga. (AP) Rory McIlroy has the career Grand Slam well within reach at the Masters.
Tough conditions at Augusta National could help keep him in the hunt.
McIlroy had an up-and-down start to the second round Friday, carding two birdies and three bogeys on the front nine while moving closer to the leaders. Matt Kuchar and six others were tied at 3 under when McIlroy made the turn one shot back.
With firmer greens, tougher pin placements and just enough wind to make approach shots more challenging, it could be difficult for anyone to make a run up the leaderboard. That could be beneficial for McIlroy.
McIlroy was at his best early in the round. He made a sweeping 30-footer for birdie and the par-5 second. He nearly drove the green on the 350-yard third and then chipped to 4 feet and drained it for a birdie. He was at 4 under before giving back shots at Nos. 4 and 6, both par 3s.
He was over the green on the 240-yard fourth and then missed a 7-footer for par. He was long again on the 180-yard sixth, chipped on and missed a 17-footer for par.
McIlroy wanted to get off to a solid start, knowing it was crucial for his latest shot at a career Grand Slam.
Saving par on the final three holes in the opening round Thursday helped him keep it in sight.
McIlroy shot a 3-under 69, breaking 70 in the first round at Augusta National for the first time since 2011. He shot a 65 that year and looked like he would win a green jacket before a final-round meltdown.
"You look at it and not anyone is really getting away," McIlroy said. "Jordan had a pretty strong finish there. But this is my best start in a few years. And, yeah, it's such a hard golf course to play catch-up on. If you start to chase it around here, that's when you start to make mistakes.
"But to be right up there and have the ability to stay patient because of the position I'm in, that's a nice luxury I have over the next few days."
He can thank a few timely shots down the stretch.
McIlroy sank an 8-footer for par at No. 16, holed a sweeping, downhill, 13-footer for par on the next green and then chipped to a couple feet to save another par on 18.
"It's not always the birdies that stick out in your mind," McIlroy said, calling those shots the highlights of his round. "Those three holes. Big for momentum. I don't feel like I'm going out trying to get those two shots or whatever back (Friday) morning. I can just be relaxed going on to the first tee, not being too concerned about trying to get those birdies back. So, yeah, they were huge."
The first time McIlroy had a chance for the Grand Slam at the Masters, he opened 71-71 and found himself 12 shots back because Jordan Spieth ran away with it.
Spieth drained five straight birdies and had a two-shot lead after the first round, but was struggling early Friday. He got off to a terrible start, making a double bogey at the first hole and a bogey at the second, before dropping another shot with a bogey at No. 7.
By early Friday afternoon, Spieth was part of the group at 2 under, which also included Rickie Fowler and McIlroy.
—
For more AP golf coverage: https://apnews.com/tag/apf-Golf and https://apnews.com/tag/TheMasters