The first success by a British golfer at Augusta triggered a period of European domination there and his victory is remembered for its dramatic circumstances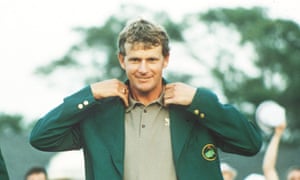 There will be only one Scot taking part in the 82nd Masters but the identity of that individual means there can still be a degree of tartan pride: it is precisely 30 years since Sandy Lyle triumphed in Georgia, earning a lifetime right to play in the year's first major.
The first Masters success by a British golfer triggered a period of European domination at Augusta. The dramatic circumstances of the success – the elegant seven iron from the bunker and birdie putt on the 72nd hole – render his win a more meaningful part of history than what came thereafter.
"I knew that Arnold Palmer at the time was the only guy to make three up the last to win," Lyle recalls. "That really wasn't in my mind. I was playing for a play-off. It would be horrifying to go all that week then lose out with a bogey at the last.
"So the iron was the chosen weapon for the 18th tee; it was 245-250 yards uphill so that was supposed to be short of the bunker. As we all know, that didn't quite work out but since the bunker shot was executed and I made the putt I've had a lot of mileage out of it.
"People remember, even 30 years later, what they were doing. There isn't a week goes by out here in America where someone doesn't ask about it. They all remember it as an unusual, iconic shot."
So too, does Billy Payne, the recently retired chairman at Augusta, who summoned Lyle at a recent champions' dinner. "My immediate thought was: 'What have I done now?' I thought he was going to have a quiet word in my ear about something," Lyle says. "He told me how often he plays the course with guests and when they get to the 18th he has to show them where I played the bunker shot from."
Lyle held a two-stroke lead at the end of the second and third rounds before the kind of Sunday wobble that has undone lesser players, dropping one shot at the 11th and two at the 12th. "It got a little smelly," he says. "I had been chased all week, then was suddenly the chaser. When you are trying to win a major, you have had it all week, you don't want to let it go. Opportunities don't come around year in, year out. You have got to take them when there.
"Losing the head isn't going to solve the problem, so you have got to have a few deep breaths. Knowing the course the way I knew it, there were par-fives coming up that were accessible for birdies. Even that plan didn't really come together, I made a bit of a mess of both of them, but unexpectedly birdied two of the last three. I reckoned playing the last three in par would be an achievement. It didn't play out as I imagined but there you go, I was patient."
Lyle's modest character contributes to his achievements not being as widely celebrated as should be the case. Now 60, he will not yet call time on participation in the Masters. "I will not set an actual date," he says. "I will make an assessment year by year. As long as I'm fit enough and not shooting 83-84 I will take it year by year."